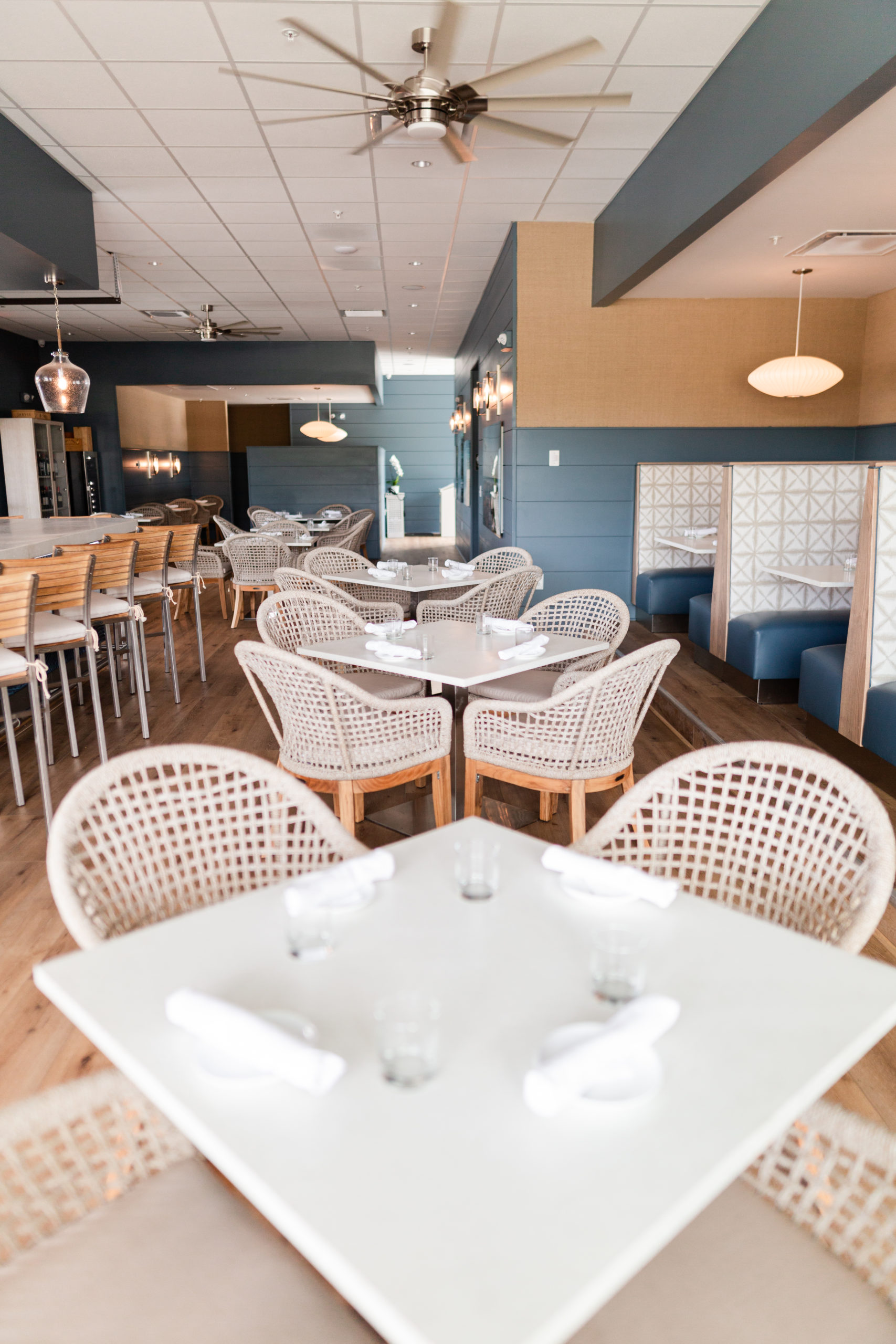 Check out our specials & events.
At this location, you can expect the same great food, plus some tasty new dishes and a wonderful outdoor seating area to enjoy!
We've got 3,300 square feet of indoor dining space with seating for about 85 guests as well as a spacious, 1,500-square-foot covered patio with a large fireplace, indoor-outdoor bar, outdoor seating and several lounge areas.
OUR HOURS
Monday – Closed
Tuesday – Thursday 11:00 am – 9:00 pm
Friday 11:00 am – 10:00 pm
Saturday 10:00 am – 10:00 pm
Sunday 10:00 am – 9:00 pm
Saturday & Sunday
Brunch 10am – 2pm
Lunch 2pm – 4pm
Blue Surf Breakfast
Havana – onions, garlic, mojo pork, jalapeno, black bean, cheddar
House – onions, garlic, Heritage bacon, smoked ham, cheddar
Hippy – onions, garlic, feta, tomato, spinach, wild mushrooms
Waffles
Heritage Bacon
Blueberry Compote & Greek Yogurt
Traditional with Vermont Maple Syrup
Breakfast Plates
Homestyle – 2 eggs*, hash, 2 strips of heritage bacon, 2 sausage links with toast or biscuit.
Junior – 2 eggs*, 2 strips heritage bacon & fruit with toast or biscuit.
Ribeye & Eggs – 6 oz. steak, hash, herb aioli, 2 eggs* with toast or biscuit.
Shrimp & Grits – 2 Eggs, elk Sausage, butter, wine, cholulah, mushrooms, onion, garlic with toast or biscuit.
BLT – egg*, feta, arugula. Fruit or hash. Toast or Biscuit.
Coconut Rice Bowl
Sweet potatoes, fennel slaw, soy molasses, w/ grilled market fish*, salmon*or chicken.
Grilled Fish Sandwich
Market select fish, mango salsa, arugula, sriracha mayo on ciabatta.
BSC Fish Tacos
Grilled salmon*, arugula, mango salsa, swell sauce and cilantro on flour tortillas.
Cubano
Pulled mojo pork, swiss, mustard, b&b pickles, smoked ham, sriracha mayo, ciabatta "a la plancha".
Southern Burger
House patty, pimento cheese, grilled onions, bacon, spring mix on brioche (bean patty available)
OBX Chowder
Shrimp, clams, market fish, roasted vegetables, broth, cream, bacon, parmesan grilled ciabatta.
Mojo Pork
Coconut rice, black beans, mango salsa , jalapeno corn bread.
Shrimp Za'atar
grilled domestic shrimp, lemon aioli, vegetable quinoa, sautéed vegetables.
Chicken Paillard
Fried chicken, whipped goat cheese, fingerling potatoes, grilled asparagus, pickled red onions and dijon vin.
Scandi
Smoked salmon, sweet potatoes, asparagus, lemon aioli, pickled onion, bacon & dijon.
Citrus Chicken
Grilled chicken, organic greens, avocado, onion, tomato, carrot, parmesan/lemon vinaigrette.
Rancher
Strip steak*, spring mix, tomatoes, cucumber, red onion, parmesan, grilled pita, peppercorn ranch.
Low Country
Organic greens, American shrimp, cucumber, tomato, corn, heritage bacon, Asher Blue Cheese avocado, scallions, blue cheese dressing.
Check out our tasty dinner options such as filet mignon, fish and grits prepared with a fresh catch of the day, and an Italian-inspired chicken dish. Our menus rotate in Spring & Fall, so check out our new seasonal options when you come!